Each week, Just Drinks' journalists analyse data on patent filings and grants that illustrate innovation trends in the beverage alcohol and soft drinks sectors. These patent signals show where the leading companies are focusing their research and development investment – and why. We uncover key innovation areas in the sector and the themes that drive them.
This new, thematic patents coverage is powered by our underlying Disruptor data which tracks all major deals, patents, company filings, hiring patterns and social media buzz across our sectors.
Patents filed by beverage-alcohol groups linked to the environment were those most often granted during the first half of the year, data shows.
In the six months to the end of June, 71 environment-related patents lodged by alcohol companies were approved, figures from GlobalData, Just Drinks' parent, suggest.
GlobalData's Patent Analytics database contains global figures on the patents filed by businesses – and those granted – across multiple sectors. Each patent is classified by theme, including those linked to areas such as the environment, sugar reduction and robotics.
During the period, 66 patents centred on the environment were filed by alcohol companies and awaiting approval, As with grants, the environment was the classification that featured the most often among patents pending during the opening six months of the year.
Meanwhile, 32 patents centred on health and wellness were granted, with 49 applications for judgment made in the area.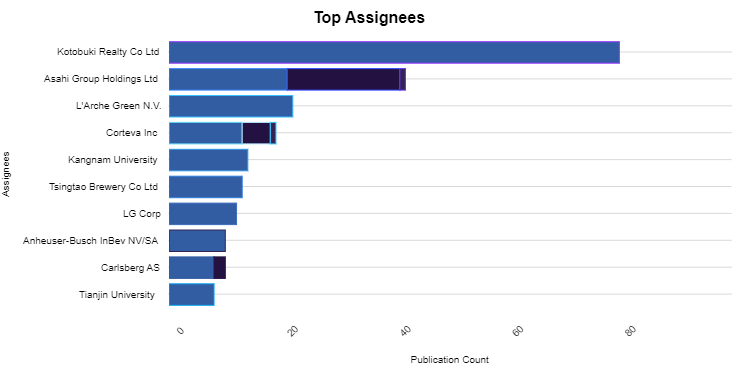 GlobalData's analysis also digs into the number of patents filed by individual companies.
In the first half of 2023, Kotobuki Realty Co. – the ultimate parent company of Japan-based alcohol and soft drinks group Suntory Holdings – had 27 patents granted. That figure takes in all subject areas, not just environmental sustainability. Anheuser-Busch InBev, the world's largest brewer, was fifth on the list with five approved.
Looking at the applications for patents, Kotobuki Realty Co. again led the way, with 51 filed for approval. The top ten featured companies including AB InBev, Asahi Group Holdings and Carlsberg.